Follow Us on Twitter
LMS is Powerful Learning management wordpress theme provides awesome features for creating online courses, teacher profile, extended user profiles, lesson management, quiz System, video Hosting, ranking / rating system, questions system, attachments, Tracking course progress etc., This theme effectively uses WordPress, Sensei, BuddyPress, WooCommerce, Event Calendar, WPML, Mail-chimp. Start teaching online, Build a Training Website.
It is really easy to use LMS and build a learning management system that makes learning and teaching online. Create your online training website with satisfaction and teach to students around the world.

Our Customer Reviews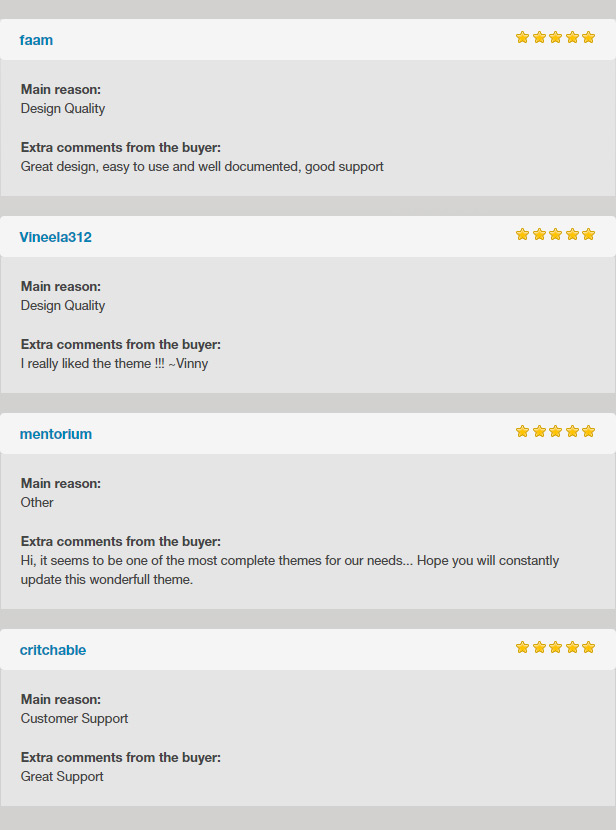 – Premium Plugin You have to Purchase
Teaching coursework has never been easier, all within WordPress. With the Sensei plugin you can create courses, write lessons, and add quizzes. Set lesson and course pre-requisites, allow user registration and even charge for your course content using WooCommerce if you want.
Seamless WP integration – Using Sensei is as easy as creating a WordPress page or post, with it being powered by it's own "Lessons" custom post type. The plugin is designed around the intuitiveness of the WordPress user interface.
Easy content creation – Create courses, write lessons, then add quizzes to test your learners. Setting up pre-requisites for both courses and lessons is a breeze in this hugely flexible plugin.
Quick user registration – Signing up for a course is super easy with Sensei using WordPress's user registration facilities. Learners then have access to a dashboard and can track their course/lesson progress.
Charge for courses – Sensei seamlessly integrates with WooCommerce allowing you to charge for courses. It's as simple as setting up a product and linking it to a course.
Course analytics – Sensei provides reporting facilities which provide you with an overview of your content, grades, as well as the students who are registered with the site.
Test Anything – With a variety of question types at your disposal, there's virtually no limit to the kind of quizzes you can create.
Question Bank – Create a 'bank' of questions, and display a random selection of them to your learners when they take a quiz.
Quiz Grading – Have your simple quizzes graded automatically, or choose manual grading for questions that require review by a teacher.
Build courses in minutes – Reuse your presentations and videos or a wide range of online material. Make stunning courses with minimal effort.
Customisable to your needs – Your own logo and color scheme, fonts etc., Make your LMS look the way you dreamt it.
Reports that make sense – Simple and comprehensible analytics about everything that happens inside your learning / Teaching environment.
Mobile friendly – An LMS built from scratch to work with PC, iPad, iPhone, Android (and similar) devices.
Easy to maintain – Built with a preference for conventions over configurations. This means fewer things to configure, more time to deliver great training.
SEO — Fully hand coded, semantic and written to bring good ranking on search engines. The theme has good use of h1,h2,h3 tags. Given priority to Content hierarchy in the markup. Famous Allin one SEO and Yoast plugin Compatible.
WPML Compatible / Localisation / Multilingual — LMS loaded with WPML compatibility. You can create your site in multiple languages.
Event Calendar Plugin (Free and Pro) – You can create and manage events. Adding photos, maps, external links, description and event count down, featured and upcoming events list, event calendar based on day, week, month, event short codes are included.
Home page and all other pages can have different layouts and with one click visual short code builder you can bring tons of layout possibilities. Descriptive and design components such as a features lists, carousels, testimonials, pricing table, accordion, tabs, buttons, quote, icons, divides, toggle, progress bars, fancy box and many more are included in the short code builder.
Changelog
2014.01.14 – version 1.3
 * WordPress 4.1 compatible
 * Now course page can have media attachments.
 * Quiz pages for courses with auto and manual evaluation 
 * Options to have following type of questions Multiple Choice, Multiple Correct, True / False, Gap Fill, Single Line and Multi Line
 * Certificates and Badges option for courses
 * Options to add assignemnts and include in course evaluation.
 * Payments for teachers can be feeded manually.
 * Simple and graphical analysis of courses, course subscriptions, course completion, etc,
 * Updated Dashboard.
 * Retina and RTL support.
 * Image Optimization.
 * Updated dummy content file.
 * Updated documentation.
 * Added demo slider zip files for both Layer Slider and Revolution Slider.
 * Option to disable placeholder images.
 * Theme and plugin languages files updated
 * The Events Calendar and The Events Calendar PRO 3.9 compatible
 * Woocommerce 2.2.10 and BuddyPress 2.1.1 compatible
 * Option to update footer logo in buddha panel
 * Now dt_sc_recent_post shortcode can have categories attribute
 * Option to have own server video in course and lessons page
 * Fixed menus comes in two line issue
2014.09.15 – version 1.2
 * WordPress 4.0 compatible
 * Woocommerce 2.2.2 compatible
2014.09.10 – version 1.1
 * Included updated version of revolution slider
  * Now white skins are also available (Added 20 more skins)
2014.08.14 – version 1.0
 * First release!
More Info
Download
Buy Now – $58
Follow Us on Twitter